Our Caller, Scott Pearce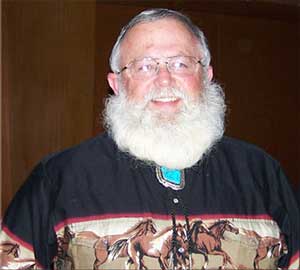 You might say that our caller, Scott Pearce, has a love affair with square dancing. He was first smitten while attending UC Davis in 1971, falling in love with both the activity and the friendliness of the people. By 1975, his enthusiasm drew him into calling, first in the Hollister/Salinas area and then in Sacramento, and he has now called and danced almost continuously for more than four decades.
A retired career law officer, Scott has since expanded his calling.  He currently calls all dance programs through A-2, calling several nights per week, and has become well known for his creative and interesting choreography. Now traveling on a limited basis, he has called dances throughout the western U.S. and Canada, and in addition to being a regular face at weekend square dance festivals, maintains a side business as a festival sound contractor.
Scott presently serves as Club Caller for two Sacramento-area clubs—Whirl-A-Ways and Sierra Squares—and is BMI and ASCAP licensed.
Square dancing for Scott extends beyond the dance floor.  He met his wife, Katie, many years ago—not surprisingly—at a square dance.  Now empty nesters, their two grown sons have both pursued careers in education, Nicholas as an elementary teacher, and Cody as a high school teacher, coach, and more recently, Assistant Principal.  Cody has also been a square dancer since his teens, even attending caller's school, but sometimes life gets in the way; he's presently focused on his new job, wife, and new son, Scott and Katie's first grandson.
Never idle, Scott is an avid golfer and enjoys other outdoor sports and "building things" in his home woodshop. And at Christmastime, he pursues his other love; having first donned a red Santa suit over 25 years ago, since retirement he now portrays a "Real Bearded Santa" for local organizations and businesses, currently making over 30 appearances a year from Thanksgiving onward—including local TV advertisements and on Channel 31's Good Day Sacramento.  Check out his Santa website at www.ssclaus.com!